Women Shoes Increased
Brand : YUYILONG
Product origin : CHNA
Delivery time : 20days
Supply capacity : 1000pairs
Increased shoes, also known as increased shoes, stealth taller shoes, stealth within the increase shoes, is a shoe, the appearance of this shoe and ordinary shoes the same, but increased in the shoes inside the increase, wear can be achieved to increase the effect.
Inside the high shoe composition: ordinary shoes (shoes, running shoes) + height of the insole (increased pad) composition, that is, in the soles of ordinary shoes padded with a layer of high insoles, and this ordinary shoe shoe mold is modified Of the appropriate put on the insole, so in the general market is not buy, the general market to buy shoes are not suitable for high insoles, manufacturers need to make special shoe mold.
In the overall design, the use of human foot structure and the "human physiology mechanics" principle, the use of hidden design and appearance of the flat with the structure, moderate in the shoe height, and supplemented by the form of curve and flexibility, so wearing a safe and comfortable , There is no ordinary high heels tired of the feeling of discomfort, while the height is immediately increased 5-14 cm, it is feel tall and straight and dignified, demeanor and God a new color. But the appearance is the same as ordinary shoes, both people can not see the increase in the secret, but also make people feel 12 minutes of comfort.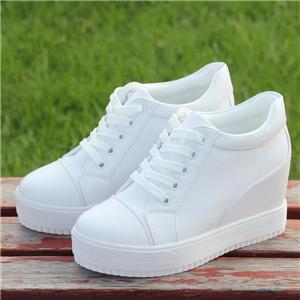 Please feel free to give your inquiry in the form below. We will reply you in 24 hours.